Optional Archiving Products & Services

InfoSend can provide you with optional document archiving products and services.
Print Image Archive – an online archiving product that you access using your web browser.
FinalDoc CD – a CD is shipped to you (usually once per month) to store at your office.
FinalDoc Transfer – the archive documents are transferred to your network to be stored.
Print Image Archive
The Print Image Archive is an optional product. This is a document archiving product used by your customer service representatives to download electronic copies of any document that InfoSend mails. This web application allows authorized users to query the database by customer name, account number, or up to four other custom fields. Documents are retrieved as individual PDF files, which lends to quick download times. Your support representatives can use this product to research customer inquiries by viewing an exact copy of the printed bill. Pricing is based on how long the documents are retained.
This product can be used to reproduce exact copies of your printed bills. If you can produce accurate copies from your own billing system then this product is not needed. This product is unrelated to the Online BillPay solution.
A screenshot of the application's search form is included below. You can pick up to 4 custom fields to index. For example the "Bill Date", "Due Date", and "Service Address" fields in the image below were added to the search form and mapped to the custom data file format for a utility client of ours.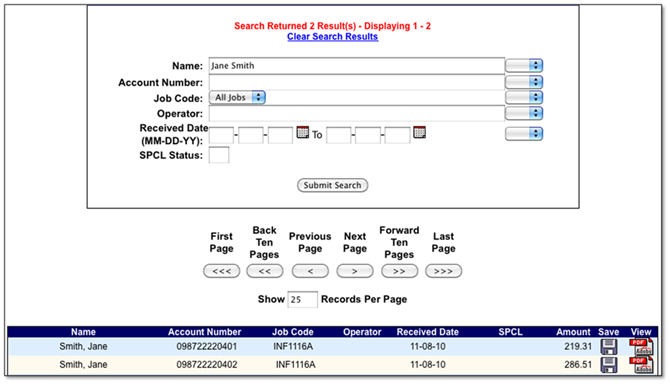 FinalDoc CD
InfoSend's optional CD Archiving product allows clients to search through processed statements by account number or name. The documents are stored on the CD in PDF format with files indexed by account number and name.
InfoSend does not require clients to install a proprietary application to use the index or view the PDF documents. The index is self-contained inside the PDF files and accessible within Adobe Acrobat®. By avoiding the use of proprietary document searching/viewing tools your archived documents are accessible for the long term from multiple operating systems.
FinalDoc Transfer
If you need to store the final post-processing PDF files on your own network then InfoSend's optional FinalDoc Transfer service can be used. The files are either pulled from InfoSend's system or pushed from our network to yours. Transmission methods available today are SFTP and FTP.
The default set up is for one PDF file to be created for each batch that InfoSend processed. PDF files contain multiple pages and are accompanied by a text-based index file that contains the metadata needed for your system to access each record.